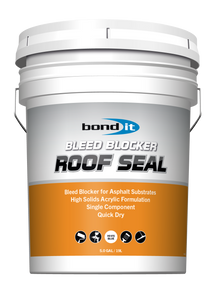 Seal It USA
Asphalt Bleed Blocker
RSABB5
Bleed Blocking Primer for Asphaltic/Bituminous Substrates
Bond It Asphalt Bleed Blocker is a one-part, high-solids, solvent-free bleed blocking primer that dries quickly, and creates a monolithic barrier when preparing asphalt and bitumen surfaces as part of a Bond It Roof Seal system. 
Product Use: The high-solids acrylic polymer formula blocks surface staining from asphaltic surfaces. Bond It Asphalt Bleed Blocker is breathable and flexible when cured, and offers exceptional adhesion to asphaltic surfaces. Color is a light blue to ensure uniform coverage even in bright daylight conditions. 
Application/ Instructions: Mix well before use. Ambient temperature during application of primer must be above  40°F (5°C), with relative humidity below 80% and no forecasted rain for at least 48 hours. Base coat should be a minimum of 16 wet mils (1.0 gal per 100 sq-ft) and should be completely dry prior to installation of second coat or top coat. In cold weather, it may take up to 48 hours for Asphalt Bleed Blocker to fully cure. Product will cure to a light blue. Surface texture and wind may effect cured mil thickness. Asphalt Bleed Blocker shouldn't be left exposed without a top coat for longer than 7 days. If a second coat is required, this should only be applied after first coat has fully cured. It is essential that asphaltic surfaces are fully and completely coated with Asphalt Bleed Blocker. Any gaps in coverage can lead to product failure. 

 Technical Data Sheet
---
Share this Product
---
More from this collection