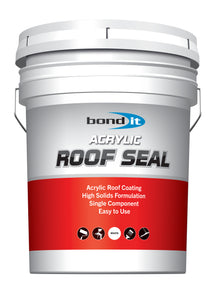 Seal It USA
Acrylic Roof Seal
ARS5WH
Highly-Reflective Elastomeric Coating
Bond It Acrylic Roof Seal is a professional-grade acrylic roof coating. The highly durable formulation is solvent-free, non-flammable for low- to mid-slope commercial roofing application. Acrylic Roof Seal is a single-stage monolithic roof coating that has high elasticity, even under weather variations. Acrylic Roof Seal does not harden under cold conditions and is UV and color stable. Offers water vapor permeability, allowing the building to breathe. 

Uses: Provides primerless adhesion on a wide variety of building and roofing surfaces. Ideal for repairing roof with a low- to mid-slope, but not on zero-slope roofs. Great for roof patches and repairs to most common roofing materials.
Instructions: Please refer to Acrylic Roof Seal installation guide prior to beginning any work. Instructions should be thoroughly read and understood, and preliminary testing on substrate should be conducted prior to use. Coating should be evenly applied at a rate of 2.5gal per 100sq-ft. Coverage will vary according to the porosity of substrate to be restored. Asphaltic, bitumen substrates must be sealed with Bleed Blocker prior to application of Acrylic Roof Seal. 
Storage: Store in original, unopened cartridge, in a cool, dry place at a temperature between 41°F and 121° F. Product should be stored in the original, unopened container.
Shelf Life: Use within 12 months.
Warranty: Manufacturer warrants the product to be free of defects in material and performance when used as directed for one year from date of purchase. Call (800) 587-9940 with your sales receipt and product container available for replacement product or sales price refund. Manufacturer nor reseller will be held liable for incidental or consequential damages.
---
Share this Product
---
More from this collection